Tang Shi – Poèmes de l'Époque des Tang
Un recueil de 320 pièces pour découvrir la poésie chinoise à son apogée. Œuvres de Li Bai, Du Fu, Wang Wei, etc. Tr. Bynner (en) et 21 d'Hervey (fr).
Tangshi I. 1. (32)
Wei Yingwu
East of the Town
From office confinement all year long,
I have come out of town to be free this morning
Where willows harmonize the wind
And green hills lighten the cares of the world.
I lean by a tree and rest myself
Or wander up and down a stream.
...Mists have wet the fragrant meadows;
A spring dove calls from some hidden place.
...With quiet surroundings, the mind is at peace,
But beset with affairs, it grows restless again....
Here I shall finally build me a cabin,
As Tao Qian built one long ago.
Bynner 32
Tang Shi I. 1. (32)


Page précédente
Page suivante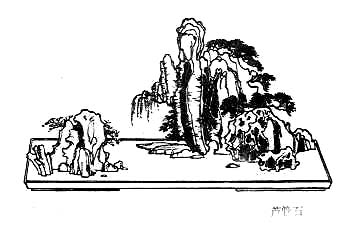 Poèmes de l'Époque des Tang – Tang Shi I. 1. (32) – Chinois off/on – Français/English
Alias Tang Shi San Bai Shou, Three Hundred Poems of the Tang Dynasty, Poésie des Thang.

Le Canon des Poèmes, Les Entretiens, La Grande Étude, Le Juste Milieu, Les Trois Caractères, Le Livre des Mutations, De la Voie et la Vertu, 300 poèmes Tang, L'Art de la guerre, Trente-six stratagèmes
Bienvenue, aide, notes, introduction, table.
Index – Contact – Haut de page