易 經 Yi Jing – I Ching, the Book of Changes
This famous system of 64 hexagrams plus their commentaries and trans­for­mations is at the root of Chinese thought. Tr. Wilhelm (en, fr).
current binomial swap trig. opposite flip X leading master X constituent master
The Hexagram
The Judgment


THE WANDERER. Success through smallness.
Perseverence brings good fortune
To the wanderer.
The Image


Fire on the mountain:
The image of THE WANDERER.
Thus the superior man
Is clear-minded and cautious
In imposing penalties,
And protracts no lawsuits.
Lower line


Six at the beginning means:
If the wanderer busies himself with trivial things,
He draws down misfortune upon himself.
Second line


Six in the second place means:
The wanderer comes to an inn.
He has his property with him.
He wins the steadfastness of a young servant.
Third line


Nine in the third place means:
The wanderer's inn burns down.
He loses the steadfastness of his young servant.
Danger.
Fourth line


Nine in the fourth place means:
The wanderer rests in a shelter.
He obtains his property and an ax.
My heart is not glad.
Fifth line


Six in the fifth place means:
He shoots a pheasant.
It drops with the first arrow.
In the end this brings both praise and office.
Upper line


Nine at the top means:
The bird's nest burns up.
The wanderer laughs at first,
Then must needs lament and weep.
Through carelessness he loses his cow.
Misfortune.
I'll keep trying!
Anon. – 2008/12/06
love sent
Anon. – 2006/12/09
evol rel h f
lena – 2005/11/02
Yi Jing I. 56. (56)


Previous page
Next page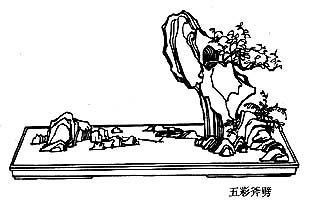 I Ching, the Book of Changes – Yi Jing I. 56. – Chinese on/off – Français/English
Alias Yijing, I Ching, Yi King, I Ging, Zhou yi, The Classic of Changes (Lynn), The Elemental Changes (Nylan), Le Livre des Changements (Javary), Das Buch der Wandlung.

The Book of Odes, The Analects, Great Learning, Doctrine of the Mean, Three-characters book, The Book of Changes, The Way and its Power, 300 Tang Poems, The Art of War, Thirty-Six Strategies
Welcome, help, notes, introduction, table.
Index – Contact – Top